Aluminium Heatsink Extrusion Production Process
Aluminum profiles are aluminum materials with different cross-section shapes by hot-melt and extrusion. aluminium heatsink extrusion production process mainly includes three processes: casting, extrusion and coloring. Among them, coloring mainly includes: oxidation, electrophoretic coating, fluorocarbon spraying, powder spraying, wood grain transfer and other processes. Different aluminium extrusion factoryS have different innovations in these processes, so it is very important to choose the right aluminium extrusion factory.
Melting and casting is the first process of aluminium heatsink extrusion production. The complete process of aluminium heatsink extrusion production is as follows:
1. Ingredients: according to the specific alloy brand to be produced, the addition amount of various alloy components is calculated, and various raw materials are reasonably matched.
2. Smelting: the raw materials are added into the melting furnace according to the process requirements, and the impurities and gases in the melt are effectively removed by degassing and slag removing refining methods.
3. Casting: the molten aluminum is cooled and cast into round casting rods of various specifications through deep well casting system under certain casting process conditions of aluminium extrusion factory.
4. Extrusion: extrusion is the means of profile forming. First, according to the aluminium heatsink extrusion product cross-section design, manufacture the mold, using the extruder to extrude the heated round casting bar from the mold.
5. Coloring (here we mainly talk about the oxidation process): the extruded aluminium heatsink extrusion has poor surface corrosion resistance, so it is necessary to conduct surface treatment through anodic oxidation to increase the corrosion resistance, wear resistance and appearance beauty of aluminum.
The main process is as follows:
1. Surface pretreatment: clean the surface of aluminium heatsink extrusion by chemical or physical methods to expose the pure matrix, so as to obtain complete and dense artificial oxide film. Mirror or matte (Matt) surfaces can also be obtained by mechanical means.
2. Anodizing: Anodizing occurs on the surface of the profile after surface pretreatment under certain aluminium extrusion factory process conditions, resulting in a dense, porous and strong adsorption Al203 film.
3. Sealing: sealing the pores of the porous oxide film formed after anodizing, so as to enhance the anti pollution, anti-corrosion and wear resistance of the oxide film. The oxide film is colorless and transparent. Using the strong adsorption of the oxide film before sealing, some metal salts can be adsorbed and deposited in the film hole, which can make the appearance of aluminum profile show many colors other than the natural color (silver white), such as black, bronze, golden yellow and stainless steel color.
Nowadays, with the gradual rise of more and more aluminium extrusion factory, the quality of aluminium heatsink extrusion on the market is uneven. To choose the right aaa becomes a more difficult thing. Therefore, we need more guaranteed aluminium extrusion factory and cooperate with them to produce satisfactory products. If you are interested and want to get the latest aluminium heatsink extrusion related information or reliable aluminium heatsink extrusion products, please contact us. We will be waiting for you with the best service.
Our advantages
1. up-to-date machines
2. rich experienced engineers and workers, especially our high responsibility
3. strict quality management system
4. useful training institution
Company capability
There are 26 extrusion machines, 2 anodizing line, 1 electrophoresis line, 2 powder coating lines, 1 PVDF line and wooden grain etc.
There are over 5,000 tons output every month, over 60,000 tons annual output. Meanwhile, the exportation is take up about 50%.
We export to over 40 regions and countries, such as Nigeria, Ghana, Congo, Zimbabwe, UK, Spain, German, Philippine, Malaysia, Chile, Argentina, Bolivia, Peru, Columbia, Mexico etc.
The types of wood color
1.Wooden grain heat transfer
2.Wooden powder coating
3.Wooden electrophoresis
The advantages of wood color
1. have so much wood colors can be chosen
2. very good corrosion-resistance
3. won't change color
4. very good weather resistance
The procedure of wood color
1. wooden grain heat transfer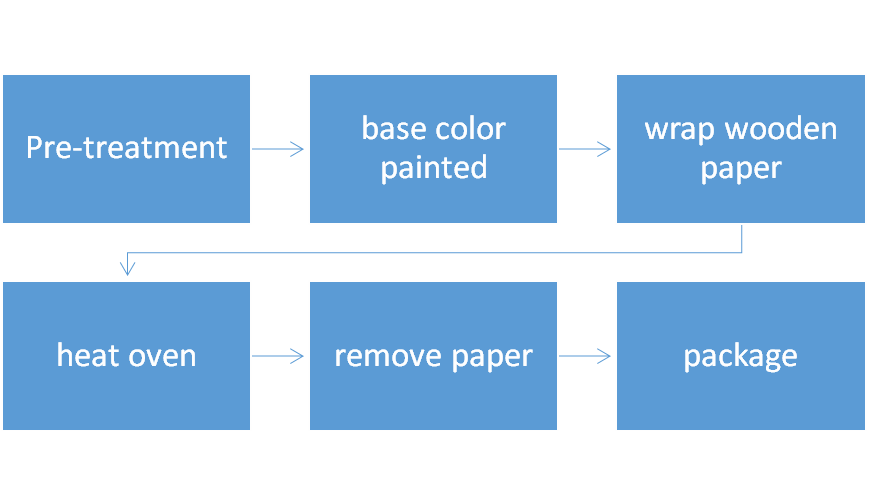 2.Wooden powder coating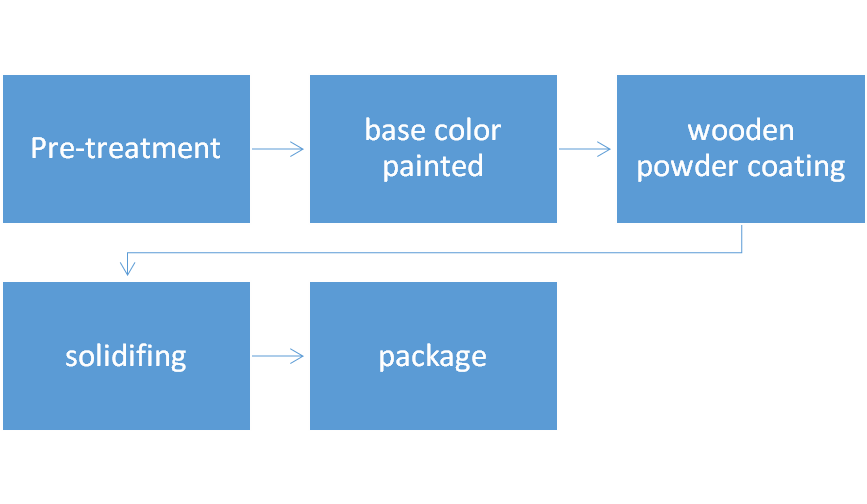 3.Wooden electrophesis