INDUSTRY NEWS
We talk about aluminum often in our life, but we also often find that there are still lots of friends who have no idea to choose and buy good aluminum products. So, it is needed to share with you some related knowledge about the aluminum products right urgently.
Firstly, how the aluminum products come into being?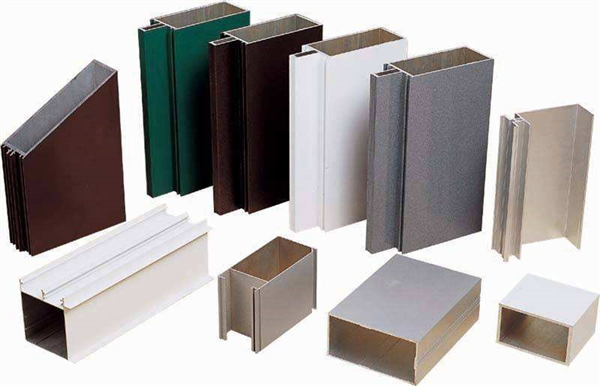 Aluminum products are made by aluminum and other alloying elements, usually including aluminum windows and doors profiles, aluminum cabinet profile, aluminum slot profile, and aluminum pipe. In general, the first step is to process it into castings, forgings and foil, plates, strips, tubes, rods, profiles, etc. Then, it is made by cold bending, cutting, drilling, and coloring. The main metal elements are aluminum with some other alloy elements, which can strengthen the performance of aluminum profile. And the aluminum profile is made by hot melt and extruded into variety aluminum products with different cross section shape.
Then, what kind of aluminum products is the best one? It is so important to observe and test the aluminum products before making a buying decision.
1. Bright surface and cross section.
If the surface and cross section is bright, it indicates that the aluminum composition is high and purer. If the cross section becomes black, or the surface color is not bright, it indicates that the aluminum product is made from recycled materials.
2. Test the strength.
You can make the aluminum products collide with the secondary aluminum. Good aluminum products won't have too much trace, while bad one will sink in with a groove.
3. Proper quotation.
Quotation is different with different materials, different surface treatment and different aluminum wall thickness. If the quotation is too low, most of the material may be recycled. For example, with the same length of 1 M, some aluminum products are 4 kilograms weight, but some are only two kilo grams. Wall thickness of aluminum products can also be ranged from 1.2 MM to 5 MM. A proper quotation should be taken care of.
The aluminum windows and doors profiles are more widely used in daily, so in particular, I will introduce you how to choose cost-effective one. A good aluminum windows and doors profiles should have characteristics as follow:
1. Excellent window wheel;
2. Old-resistant and anti-corrosion adhesive tape for pressing glass;
2. Good sealed performance;
3. Gauze elements with good thickness and density and without rusty;
4. Higher cost performance with thicker surface treatment layer;
5. Installation framework reaching to the horizontal line.