INDUSTRY NEWS
Four types of aluminum profile for KFC's doors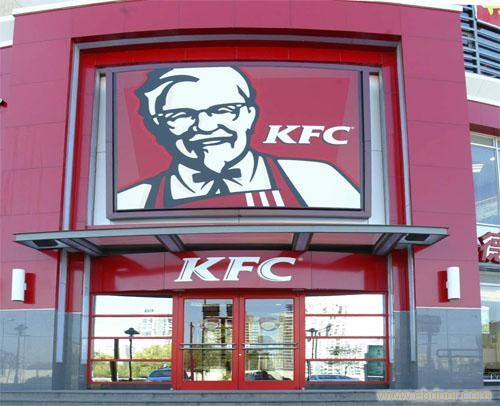 Nowadays, the name of the fast-food restaurant, KFC (Kentucky Fried Chicken), has become a household word all over the world. In China, almost in every city center, you can encounter one KFC at the corner. Then, do you know what is the first thing you will met when entry it? Yes, that is the door. The amazing aluminum profiles have also conquered the KFC's door for the four door profiles already. But, do you know what the exact types of aluminum profiles for the doors of KFC are and what their features are? Let me introduce for you.
First, electrophoresis aluminum profile
The major features:
1. Excellent corrosion resistance: the surface of electrophoresis aluminum profiles do well in anti-corrosion, which can effectively avoid acid, alkali, and salt corrosion. It is the best types to prevent the erosion of building mortar.
2. It feels fine and smooth and has beautiful appearance as well as various alternative colors.
3. High hardness of the film can be resistant to engraving from aluminum pen in the hardness of 3H above.
4. Desirable service life: even in the harsh conditions, it can also ensure the decorative function 50 years service life above, without erosion, aging, fading and scattering.
Second, the oxidized aluminum profiles -- the substrate as the anode is placed in the electrolyte for electrolysis to form a layer of the oxide film for maintenance.
The major features:
1. It has a strong wear resistance, weather resistance, and corrosion resistance.
2. The substrate can be colored with a variety of colors to favor the consumers.
3. It has high hardness, suitable for all types of construction, industrial materials manufacturing.
Third, rare earth aluminum foam profile
The metallic foam material is a new engineering material integrating the physical function with structure. It has a variety of excellent physical functions in noise elimination, shock absorption and separation works, catalytic carriers, barrier protection, energy absorption and buffering and other areas. Among them, the rare earth aluminum foam profile is also considered a prospect material for cars, steamboats and other transportation tool in the future.
Fourth, the constructionaluminum profile – the finished construction products made of aluminum and aluminum alloy, which can get diverse functions by adding one or several alloying elements.
The constructionaluminum profile is glamorous and beautiful, and has good corrosion resistance, high reflectivity of light and heat, good sound absorption function. And what's more it can obtain all kinds of different colors through chemical and electrochemical methods. Therefore, the aluminum profile is widely used in the roof, walls, doors and windows, skeleton, table decoration panels, ceilings, carved handrails, indoor furniture, shop containers and construction templates of the industrial and civil construction.